Trackting BIKE is a smart and easy-to-use system with its App: it gives you the peace of mind of always having your bike under control.
Trackting BIKE consists of 2 parts:


– the GPS tracker
– the mobile App


The tracker is quick and easy to attach to the bike: it attaches under the bottle cage (T7) or inside the fork tube (T9) and is safe from forced removal.
FUNCTIONS

The TRACKTING App, available free of charge for Android and iPhone, allows you to select two modes:
– Lock
– Unlock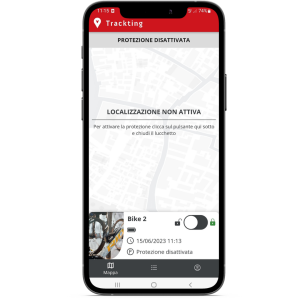 In Unlock mode (lock open), when the bike is in motion, BIKE detects that the owner is nearby or on the pedals.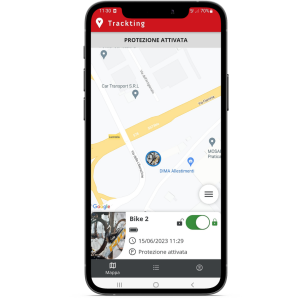 In Lock mode (lock closed), the device monitors the bike and reacts to any attempted theft or tampering, thanks to the integrated digital vibration sensor.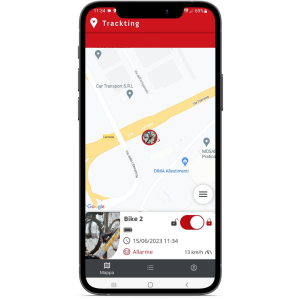 In case of theft, BIKE alerts the owner with a phone call and updates the position on the map every 30 seconds.
In the event that the thief enters an indoor location (e.g. a garage), BIKE will send the position near the entrance.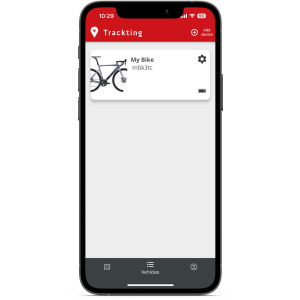 The App allows you to simultaneously associate and control several bikes, each equipped with its own device.
BIKE also allows you to temporarily share your location (15 min, 1 hour, 8 hours) with a friend or family member, thanks to the S.O.S. function. In case of need, they can then view the map by clicking directly on a link.
HOW TO RECHARGE YOUR CREDIT


To top up credit, enter the App under the menu item "Vehicles" and select the vehicle settings icon. If your credit has run out, the red 'RECHARGE' button will appear, which you must click on.
A box will open with the annual amount of 29€. Clicking on it will take you to the payment system for the new annuity.
Your credit has now been renewed for another 12 months. When you return to the App, you will find the status of your active subscription and the next expiry date in the vehicle settings.
SERVICE COSTS

The service includes: unlimited connectivity in Europe (50 countries), online customer support, firmware updates and apps.
The cost is only 29€ per year or 59€ for 3 years.
In any case, included in the price you get 30 days of service for free, when you activate for the first time.
HOW TO INSTALL TRACKTING BIKE