Welcome!
To start Smart Alarm you need only a few minutes. Installation is simple and fast.
ATTENTION: IF YOU BOUGHT EVO FOR E-BIKES, THIS IS NOT YOUR GUIDE. YOU MUST GO HERE.
Watch this short video (English subtitles) or read the few simple steps below.
Remove the side rubber cover to free the micro USB socket located on the side (use a pin to help you to pull it out).

Connect the Tracker to a charger or a PC via the supplied micro USB cable.  

Allow it charge until you see the green LED.
*For safety reasons, the internal battery is inactive during shipment, but may be discharged upon delivery. Therefore it is advisable to leave the device on charge for this amount of time.
NOTE: the Tag inside the package is already paired with the Tracker purchased. No action is needed on this Tag for activation.
2. INSTALL THE APP "TRACKTING - SMART ALARM"
3. CREATE AND ACTIVATE YOUR ACCOUNT ON THE APP
Launch the App, click on Sign up and follow the instructions on the screen.
You must create a separate account directly on the app even when you previously created one on our ecommerce.
The two accounts are not connected in order to respect your privacy.

Your App account will be activated via the confirmation link sent to your email account.
Go to Vechicles and click on Add Smart Alarm (+) and enter the UID code found on the back your your Tracker (black).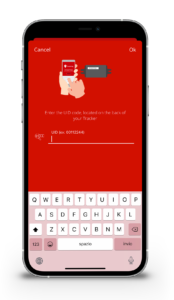 5. PERFORM THE FIRST LOCALIZATION
Disconnect the Tracker from the charger

Shake it for at least 10 seconds and move it around together with the Tag (red keychain), until reaching a windowsill, a balcony or a place exposed to the sky. Set it down face-up.

Take the Tag keychain with you and distance yourself from the Tracker by at least 30 meters. Wait 5 minutes. 

You will receive a notificaton on your phone: Smart Alarm performed its first park event! Now open the app and see the position on the map.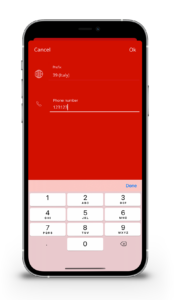 In case of theft, Smart Alarm will alert you with a phone call. Be sure to save your phone number in your Account settings, and verify it is correct.
Open the App, go to Account, then scroll down and enter your phone number, with the international code (i.e. Germany +49), then select OK.
Now enter the four-digit code you have received via SMS (you need to wait for it at least 5 minutes) and select OK.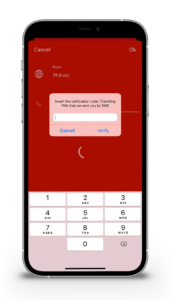 NOTES
Save the number +18304444666 in your contacts as "Trackting Alarm", so that it will ring even if you have your phone in Do Not Disturb mode. This is an automatic system: do not call this number: there is no operator answering to you. 

Alarm calls are unlimited unless you answer to the call or if you reject, using the red button on your screen. Otherwise, if you or your voicemail answers, there are max. 5 calls available per month (push notifications are unlimited in any case).

IMPORTANT: Check with your operator how to disable your voicemail in case of no answer or call reject.
7. FIX THE TRACKER TO YOUR VEHICLE
Now the Tracker is ready to be placed on your vehicle: whether you secure it with double-sided tape or the bracket Smart Clip (optional), ideal for motorbikes. On cars and vans, you can just put it under the seat.
Always be sure that it is fixed face-up so that the GPS receiver may pick up the signals from the satellites.
Do not fix it next to large metallic masses or heat source (engine).
Smart Alarm is sealed and is water resistant, but it is recommended to place it in a protected area, away from water or other liquids
8. GET TO KNOW TRACKTING AND GET THE BEST OUT OF IT
Smart Alarm is a designed to be easy to use.
To get the best out of the service it provides, please learn more about how it works by reading this simple instructions notes. 
IF YOU NEED AN ADDITIONAL TAG
If you have bought an additional Tag for your Tracker, i.e. for family members using the same car, you must pair it with the Tracker from the App. Follow these simple steps as described here.
NOTE: the first Tag inside the package with Smart Alarm is already paired. You don't need to do anything with this one.
TECHNICAL SUPPORT AND TROUBLESHOOTING